Please download, read, and leave review on Amazon if you have time.
(Click Here) for link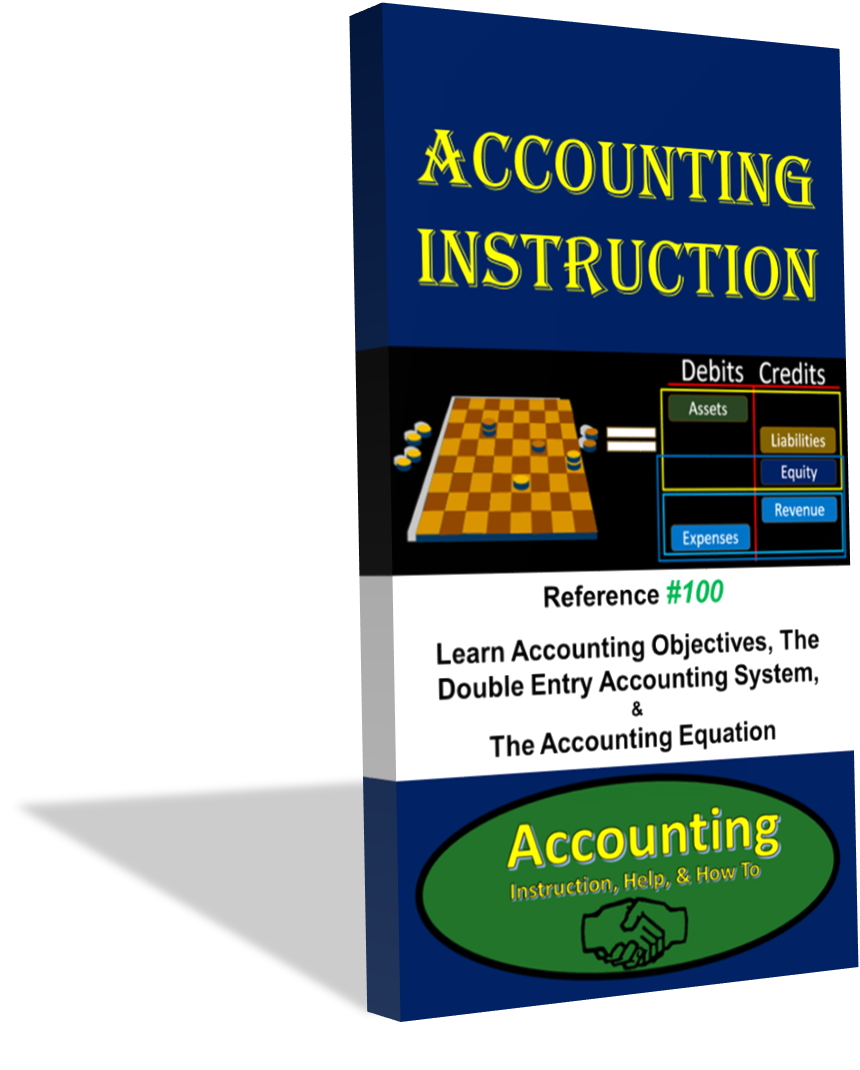 Learn Accounting Concepts in An Easy to Read Format
Accounting Instruction Reference #100 will cover introductory accounting topics needed as a foundation for developing an understanding of most accounting concepts, accounting basics, including accounting objectives, the double entry accounting system, and the accounting equation. The accounting 101 concepts presented in the book are at the heart of all financial accounting, objectives being what guides and drives financial accounting procedures, the double entry accounting equation being financial accounting's primary tool, and the accounting equation is one way to present and conceptualize the double entry accounting system and how it works.
Reasons for Reading
This book is written with multiple goals and objectives in mind. The first aim of this book is to present introductory accounting topics in a format that is enjoyable to read and one that provides the reasoning for financial accounting and financial accounting procedures because an understanding of the reasoning helps motivate further study as we move to related accounting topics. This book will also have interactive resources, providing links to instructional videos and other information, so that readers can experience the topics in multiple formats, by text, by video, and through interactive problems from outside resources, from our webpage http://accountinginstruction.info/. This book will also line up with content presented on our webpage as well as material on our YouTube site http://www.youtube.com/c/AccountingInstructionHelpHowToBobSteele.
How to get the most out of the book
The reference number of 100 will help to line up material from the text to related content in other locations like the website and YouTube. The book and supporting materials can be useful to instructors, students, or anybody learning accounting concepts. Related resources, including those on our website, will supplement the book with videos, test banks, discussion questions, more reading, games, and more. Some other locations for supporting material are Facebook https://www.facebook.com/AccountingInstructionhelp/?ref=book. More resources related to the text include Twitter https://twitter.com/AccountingInst SoundCloud https://soundcloud.com/accounting-instruction-help-how-to-bob-steele, iTunes https://itunes.apple.com/us/podcast/accounting-instruction-help/id1141748637?mt=2, Stitcher http://www.stitcher.com/podcast/accounting-instruction-help-how-to-bob-steele?refid=stpr, and LinkeIn https://www.linkedin.com/company-beta/18090288.