The primary obstacle to learning accounting concepts is the memorization of rules, a simple task, but one most do not find very enjoyable.
Memorizing rules is the same obstacle holding people back from learning many fulfilling activities, activities like learning music, or a new language. Rules of some kind must be learned to play music. The idea of rules, of structure, of constraints, seems counter-intuitive to the concept of creativity we associate with creating and playing music, but rules, structure, and limitations are often requirements for creativity. For example, writing and especially poetry, requires adherence to strict rules and many great writers have done their best work while constrained by deadlines and editors.
Whether it be notes, chords, or songs rogue memorization is required before these learned concepts can be used to create something new, to create or play music, the structure critically contributing to the creation process. Creating, of course, is the fun part, the fulfilling part, the area to look forward to but memorization is a necessary part, a critical part, and a part well worth the effort.
Confidence in the system is required to learn accounting concepts
Education is all about asking questions, testing theories, and being skeptical of claims given without a convincing argument, without supporting facts. Accounting is no different. Questioning is essential to setting up an efficient accounting system, but the tradition of questioning can also be used as a crutch, as an excuse for not moving forward and finding our mistakes.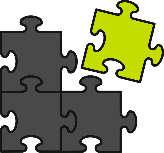 I would recommend accounting students to start out having faith that the double entry accounting system works, in a similar way that we have faith that a 1,000 piece puzzle will contain all the pieces required and can be constructed to match the picture on box, because without this confidence we will lose the motivation to move forward, to complete the task, and therefore miss out on the enjoyment of completing the project.
Confidence in the double entry accounting system is necessary when first learning accounting concepts because doubting the system restricts us from moving forward to complete the necessary steps and look for the mistakes we have made. It is much easier to claim that the system does not work then look for the more likely problem, our own errors.
Having faith in a system does not mean we should not question a system. Questions are always encouraged, at all times, but it is best to give the concepts the benefit of the doubt and not allow our questioning of the system to be an excuse, a crutch, for not completing a task or figuring out a problem.
The double entry accounting system has been around for a long time, at least sense the Franciscan monk Luca Pacioli around 1494, and while the longevity of the the system does not prove its correctness it does show that it has been a useful tool to many in the past, and will therefore likely be a useful tool to many in the future.
Categories of Accounting – Financial Accounting & Managerial Accounting
http://www.youtube.com/c/AccountingInstructionHelpHowToBobSteele
http://accountinginstruction.com/
https://www.facebook.com/pg/AccountingInstructionhelp/videos/?ref=page_internal